The High Priestess
The High Priestess
No 2. Only you will know the correct plan to take, all will become clear.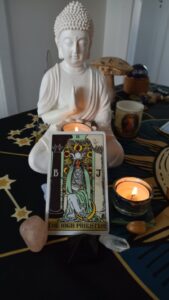 Cancer/ Water/Moon. A strong connection to the past/ protection
Patience is a virtue. You will find yourself being better able to deal with problems, you will stay very calm. Where you would normally rush around trying to do things and get on top of it all you will find yourself calming getting through your tasks. Not worrying about what needs to be done. The High Priestess will tell us we all have history, family secrets, ex partners, children, mistakes from the past, embarrassing moments.
This card also indicates there will be a change for you. Has there been a mystery around you lately? Do you sense something has been kept from you? Or are you nervous of discussing your secret for fear of rejection.  Reversed be careful about whom you trust with your emotional wellbeing,