The Magician
No 1 in the deck. Stay Positive.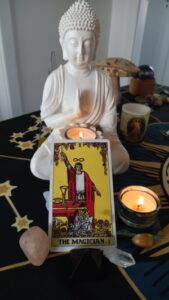 Think about what you Desire.
A decision has finally been made. You now see the new confidence within yourself. Success will and has come to you in many ways. Look back, see what you have achieved, be proud and thankful of everything that has come to your life.
The feeling that your life has been a trick to you. Wondering how this has all happened. Take all the positives from your previous experience. This is the time of you creating something new and wonderful for you. A positive outlook is required if you are planning a new project.
The magic here is you will have to make it happen. It is important to stay focused and see the opportunities that come your way. Using your mind to work out how to achieve the best results is a natural ability. Watch out for different opportunities around you, that may be the starting point you need to get your project started. Use your magic.
The Magician reversed will indicate there is trickery around you. Who is not been honest, it may also warn you to carry out more research in the project you are planning.
One is the beginning of all of all starts. The confidence and courage you have is yours to use. Think about the result before finalizing a decision.
#tarot #number #fool #dog #journey #theworldofinteriors #gratefulheart #2023 #fyp #fyi #knowledge #learntarot #desire #manipulation
#love #sun #moon #stars
#magic #magician #one #2023 #trick