The Hanged Man
Number 12.  Your thoughts will influence your future.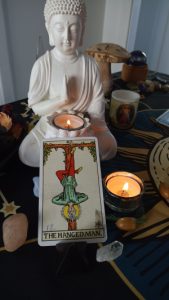 The Hanged Man
Zodiac:   Pisces, Water, Planet Neptune.  Keep your faith and hope.
The Hanged Man
Such a powerful card. Do you need timeout to figure it all out. Are you waiting on someone else to make a decision? Do not be worrying about what you cannot change. Take hope that you will move forward with great confidence.
Disagreement with a loved one is causing you great heart ache. A choice will have to be made. You question yourself, feeling as if life has gotten the better of you. Take hope with the hanged man, you need timeout to figure your path out. Life will then fall into place.
Stepping back to go forward.
Has there been heartbreak for you? It is not going to be an easy time. Feeling heartbroken, exhausted, and unable to cope throughout the day. Is there someone who needs medical attention? The hanged man says you will have to be very brave to get you through these turbulent times. Your world has literally been turned upside down. Just be patient with yourself. It is fine to feel low in yourself. You have been through a difficult time.
This is considered to be an important card in the deck. Is there someone around you or are you holding someone in suspense unable to make a clear decision. What are you missing from life, ask yourself are you truly happy, or are you just hanging around with your emotions expecting someone to return. Action is needed by you.  There are times in life where you have to let go of unrealistic dreams. Are you sacrificing your life for others if so the sacrifice is great on your behalf. A change of perspective is needed for a good outcome. Listen to your heart. Take time out to look after yourself first. Your strong mind will guide you to a good outcome. Clear your mind to only hold positive thoughts.
Take each day as a new day encouraging yourself to improve as you move forward. You will see change. The strength you have will shine through. Time is of the essence, allow it to heal you.
Readings can now be on Zoom, or a one-to-one face. The past, present and future will give answers to your question. Follow the advice of the tarot.