Death
Number 13. Protection has been received from above.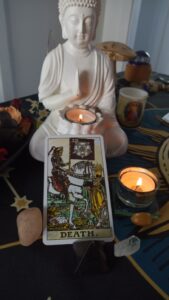 Zodiac: Scorpio, Water, Planet Pluto ruled by Mars.
Most people see the number 13 as been unlucky. I myself was born on the 13th, I take strength from the 13th grateful of the blessings I have been giving. It represents us all making our own luck.
This card is not about losing a loved one or dear friend. It tells us of change  of a message been received. The message is one you were not expecting, why are you been giving this information now. This card would say check the facts for oneself. Keep an open view.
Out of all endings new beginnings will appear. If this is reversed there is resistance from you to let go. Your new life will not begin until you let go.
As we move forward in life. The Death card tells us we need to let go of the past. You  do not have to forget the past, learn from it. Your higher power knows the difference between right and wrong. Have you been the difficult person that your loved ones and family members have had to deal. The message you will receive will encourage you to be more understanding of on going issues. Is it time to ask for help. Has some one left your life recently? This occurred suddenly leaving you feeling subdued by all that has occurred.
is what the universe offers us. Be open to understanding the situation as to why a decision is taken. Look at all aspects, not just your own view. For a new beginning to start, one must be willing to let go of the past.
Readings can now be on Zoom, or a one-to-one face. The past, present and future will give answers to your question. Follow the advice of the tarot.