Justice
No 11.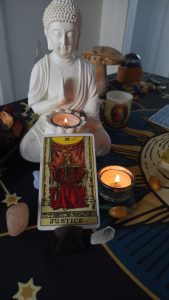 Forgivingness comes from deep within.
Zodiac: Libra/Air/ Venus. The good within yourself.
Justice.
Are you the forgiving one?
Has there been a dispute between you and someone else? It is not a case of who is right or wrong. It is time to stand up and recognize where the problem or dispute came from. Justice by having an open mind about the situation, you may be able to resolve it.
If this is not possible the Justice card can tell us, how to have a good outcome in any legal dispute that must be brought informally by another. Be mindful of others as you go through this process.
Harmony will be restored to all concerned. It tells us there will be a favorable conclusion to ongoing issues you are dealing with. Justice is about been reasonable with the conversion you will have. Do you need guidance to help you in the current situation? The Justice card will bring a straightforward way forward with a sincere understanding of the trauma of the previous times and hardship you have encountered. Do you know the difference between right and wrong?
This justice card tells me it is time to seek out balance in your life. Are you sacrificing your own happiness to see others being happy? For true happiness in others, they need and want to see happiness in you. Balance is needed.
Who has planned regarding you without consulting you? There is a dishonest person who likes to create drama. Unfairness and a lack of straight forward talking will create a ripple effect. Choose your words wisely. It is Important to stick to the facts. Judge yourself kindly. Believe that you will succeed in an honest way. Are you swayed by other people's views?
Readings can now be on Zoom, or a one-to-one face. The past, present and future will give answers to your question. Follow the advice of the tarot.